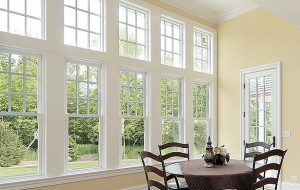 As time passes, the need for new, better windows quickly appears, especially if you are a Des Moines area resident, as here the climate does tend to change quite often, as you already know. Replacing windows will provide you with a wide range of benefits, from saving money on your energy bills to making your home more attractive and removing the noise that usually appears within your home. Moreover, replacement windows can remove draft and they don't require you to undergo stressful painting jobs. Moreover, new windows are easier to clean than the old ones, and will actually help you remove the carbon footprint, so adding replacement windows for your home is a great idea in this regard. In this article we are going to focus on some of the best tips that you can use in order to find the best replacement windows for your home.
Price doesn't show the performance
You might think that high prices bring you a great performance but that is far from being true. Try to focus on features, size and materials used instead of the price. Wooden windows might be expensive, but there are situations in which vinyl windows might bring you better results and a more affordable price. Consult an expert to get a professional opinion on this matter.
Match your windows to the climate
Iowa climate changes quite often, so it's a good idea to match the windows to the medium temperature that can be found in our region. Also, depending on where your home is situated, you might encounter things such as high winds or cold temperatures, so take this into account, as in such a situation you will need durable, wind and cold resistant windows.
Don't add that many options
Most of the time, the base package will do the trick, so focus only on those features that bring you the most value. Low-E coatings might be very helpful in most homes, but things such as triple glazing might not be the best idea unless you know that you want to protect yourself against extremely cold temperatures. Other options allow more light inside your home, others make cleaning easier, so it's up to you to select the features you need.
Know the best value
The best U factor value can be found between 0.20 and 1.20, so keep this in mind. Also, purchase windows with solar heat gain between 0 and 1, while taking into account that the lower the number, the better the value that your window brings in. If you do opt for windows that are stopping light to get inside, get those that have a visible transmittance between 0 and 1. The lower the number here, the darker the result.   There are many factors you have to take into account when you purchase replacement windows for your Des Moines area home. Remember that pricing doesn't always reflect quality or quality of installation for that matter.  Try to opt for features that make sense for your home, your trust and your pocketbook. Keep these in mind, and you will get amazing replacement windows that will help take your home to the next level!
We're a Roofer, but we also do much more like windows, siding, remodels, carpentry and handyman work!  We service all of Iowa, primarily central Iowa and the Des Moines communities of Johnston, Ankeny, Bondurant, Altoona, Pleasant Hill, West Des Moines, Waukee, Grimes – give us call for your free inspection.  You won't be disappointed with our quality and price!