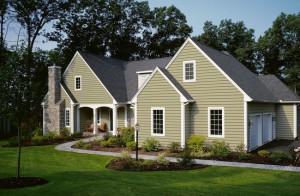 One of the most important building materials when it comes to your home is definitely the siding, so you need to ensure that you get the best possible siding in order to have the highest quality experience. There are many siding replacement materials that you can opt for, and each one of them brings you a different set of benefits, so it's all up to you to find the best one for you, based on your budget, green priorities, maintenance and durability. So, which are the best siding replacement options that you can find in the Des Moines Area?
Vinyl
Vinyl is by far one of the most popular siding replacement options that you can find in Des Moines because it's durable, tough and it comes with a wide range of styles and colors. The best part about it however comes from the fact that color actually permeates the material, which makes it very hard to determine any scratches or nicks, which is really nice. Another main benefit of vinyl is that it brings a great resistance against the extreme temperatures as well as high winds and other similar issues. While it does include some items that make it toxic for the environment, vinyl is durable and a worthwhile siding replacement option.
Metal
Even if it's costlier than the vinyl options, metal siding replacement is still a worthwhile option because it comes with a variety of colors and the installation is very fast. Moreover, since the enamel finishes are very durable, you won't have to repaint often. In aluminum siding replacement you can find around 30% recycled content, which is important if you want to work with a material that has a good green factor.
Fiber cement
Fiber cement is basically created out of a mixture of wood fibers. Fiber cement is expensive sometimes, but it's one of the most durable solutions in this list. At the same time, it resists the thermal contraction and expansion. You can also change colors if you want. The downside here is that the fiber cement materials are heavy, something that makes the installation a little hard. This isn't a green product.
Wood
The wood siding replacement can be expensive or very low cost, it all depends on the finish you want. This is an easy to shape material and there aren't that many labor costs associated with it. At the same time, a wooden siding replacement can last for a long period of time, not to mention that it also brings some great aesthetics too. Of course, you do need to paint it and maintain it often, which can add up to the costs. Thankfully, this is the greenest solution of out the whole list.
If you live in Central Iowa, you have a variety of siding replacement options to choose from.  It might be a good idea to have your roof and windows checked out at the same time if siding will be replaced. Call us at 515.612.3889 for a free inspection and estimate as well as to consult these benefits and downsides, then choose the best product, based on your requirements and budget, as this is the best way to acquire the siding replacement options for your home!