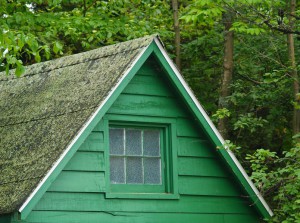 In our spring and summer seasons you may start to notice unsightly dark stains on your roof that is sometimes call fungus. While it could be from dirt or bad shingles, the most common cause is blue-green algae that can affect the appearance of a home. If you start to notice these unsightly stains, give us a call to help you maintenance your roof and read a couple tips below:
Stains and streaks don't necessarily mean a roof needs replacing, but it's important for Roof Iowa to assess the state of the shingles. If they are worn out, we will most likely discuss replacement options with you.
If the shingles look fine, then there are solutions to clean the roof. One option for cleaning the roof is to use a special mixture.  That mixture is 4 gallons of water, 1 gallon of bleach, and 1 cup of TSP (Tri-Sodium Phosphate—or acceptable phosphate-free substitute) found at many home centers. Apply this mixture with a garden sprayer, let it sit on the roof surface for up to 20 minutes, then rinse with low-pressure water.  Be sure to protect any shrubs below. Remember, the roof surface will become slippery when wet. Note: This should only be done by a roofing professional who knows what they are doing, since getting on the roof is dangerous, especially when it is wet and slippery.
Do not power wash the shingles to clean them.  Some roof cleaning companies offer this service. However, it is not recommended as it may dislodge granules, which can lead to premature shingle failure. The granules on the shingles help protect the layers below from the heat and elements.  However, unfortunately, cleaning will not ensure those ugly roof stains will not return.
Algae can grow in moist, shaded areas, so if a you have trees hanging over the roof, trimming them back can let the sunshine warm and dry the roof.
Roof Iowa is dedicated to building Iowa's trust one roof at a time.  We specialize in replacing old and damaged roofs with thorough inspections, honoring homeowners' budgets and customizing what works for our customers.  We have lifetime material and labor warranties on all roofs.
Roof Iowa is locally and family owned, a GAF Certified Contractor for Roofing, Better Business Bureau member with an A rating, Licensed by the State of Iowa, Fully insured, Voted in Ankeny's Best and Maintain a 5 STAR rating on Google, HomeAdvisor, Facebook and Yelp.  Please use our contact page on www.Roofiowa.com for a free inspection and roof replacement estimate in the Des Moines area!