What is Ice Damming?
Following up from our snow post earlier; another question we get a lot in the winter is due to water coming in on the ceiling during the cold months. Snow and ice accumulated on your roof can cause ice damming – even on brand new roofs!
Ice damming is when the heat from your home melts the snow on top of your roof (typically due to poor insulation) creating a lovely pool of water under the snow with no where to go. Roof shingles are not designed to have puddles of water sit on them – they are created to expel the water down to the gutters or downward off the roof. This is what causes water to come into your home when it is cold! Combine the cold (which contracts the shingles) and poorly sealed shingles – it could spell disaster for homes with old roofs!
There are 3 main causes of ice damming:
Poor insulation from a house ceiling. An attic with inadequate or deteriorated insulation can cause ice damming. Even a hand size area can cause ice damming!
Lack of ventilation. A house with proper ventilation allows the necessary cold air to mix and cool the hot air from the house, which slows the snow melting down.
Leaking gaps between the living space and the attic. These spaces allow extra heat to "escape" into the attic, which warms the space and melts even more snow.
What to watch out for:
Take a look for "steam pockets" on your roof – this happens when the surface temperature on the roof is higher than the ambient air temperatures creating evaporation = Snow melting on your roof when it is well below freezing.
Icicles!!  Aren't they pretty? Pretty good sign that some type of melting is happening on your roof when it is still below freezing when you find your home covered in areas with really large icicles.
Water on your ceiling when it is too cold to rain or coming out of your soffits is a definite indicator that your home has an ice damming problem.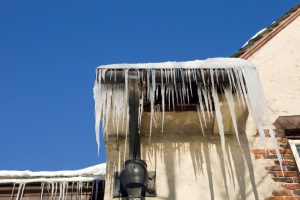 The best prevention for ice damming is having your insulation checked and replenished regularly as well as having your roof maintained or replaced and gutters cleaned. Not all ice dams are preventable, but taking the steps above can help alleviate any future incoming water.
It is always best to have your roof properly maintained to check for vulnerable spots and seal damaged areas before the winter, and Roof Iowa is always here to help!  We are voted Ankeny's Best Roofer many years in a row as well as a Des Moines Metro Best Roofer.  We have been awarded as a Master Elite and Certified Green Contractor as well as an Angie's List Super Service award winner. We thank you for your trust!